Terms and Conditions
Terms and Conditions
Welcome to kynsho.com (the 'Site'). Here are some details about how we work.
Please review the following basic terms that govern your use of and purchase of products from our Site. Please note that your continued use of our Site constitutes your agreement to follow and be bound by these terms.
1. Currency and Pricing
All transactions are processed in the currency shown on the product and checkout pages. Most countries have tax included in the price; if not, the tax will be shown on the checkout page before purchase.
2. Shipping and Delivery
Kynsho delivers products domestically and internationally.
3. Customer Service
Kynsho is committed to providing exceptional customer service and quality products. Standard dispatch timeframes are between 1–3 business days. If you have any questions or concerns about a product, your order, or life in general, email our support team.
4. Return Policy
Kynsho assists with easy returns to make sure you're happy with your purchase.
Our products all have a 1 year warranty, so if anything isn't as it should be get in touch and we'll sort out an exchange or refund straight away.
If you've made an error in purchasing, don't hesitate to ask our team for advice. The earlier we catch things, the more chance we have of reducing unnecessary shipping, which is kinder to the environment. Even better, choose as carefully as you can before hitting that confirmation button of joy. Hurrah.
5. Warranty
Kynsho products are covered by a 30 day warranty. 
6. Copyright
The contents of our website, and the site as a whole, are intended solely for personal, noncommercial (other than for the purchase of merchandise from our Site) use by its users.
You may download or copy the contents and other downloadable materials displayed on kynsho.com for your personal use only. No right, title or interest in any downloaded materials is transferred to you as a result of any such downloading or copying.
You may not reproduce (except as noted above), publish, transmit, distribute, display, modify, create derivative works of, sell or participate in any sale of, or exploit in any way, in whole or in part, any of the contents of this site.
7. Security
When purchasing from Kynsho your financial details are passed through a secure server using the latest 256-bit SSL (secure sockets layer) encryption technology. 256-bit SSL encryption is the current industry standard.
Style that Protects
We design outerwear accessories for the transitions that people make from the indoors to the outdoors. This allows us to re-think how people move through spaces. At Kynsho, we are focused on making functional, versatile and timeless outerwear with style that protects.
Our Founder's Story
George Crichlow
Our founder's entrepreneurial journey started when he sought out to teach himself to build a motorcycle. That process taught him life skills like how to weld and sew. It was through that process that he realized, what you wear should reflect what you do. Kynsho, was born out of his desire to transition from work to life at a moments notice. That is why Kynsho, is focused on making functional, versatile and timeless outerwear with style that protects. He believes in life everyone is in pursuit of something and that we all need the right tools and accessories to enable us to reach our full potential.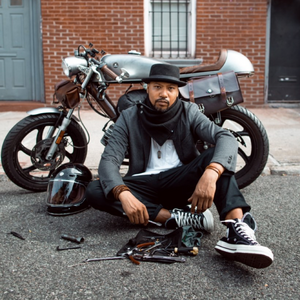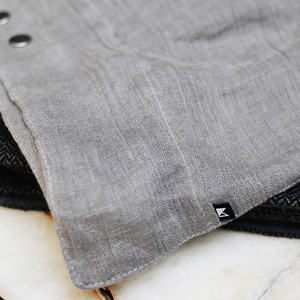 Our Philosophy
Less Is More
It inspires everything that we do. In a world of excess, we realized we don't need a lot of choices, just more thoughtful options. That's why we design practical accessories with smart details and enduring style.
Our Name
Kynsho
Means in pursuit of personal progress in Zen Buddhism. It is the moment when one identifies their true calling in life and continually works to realize their full potential.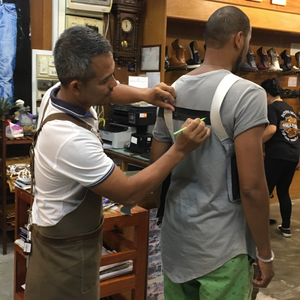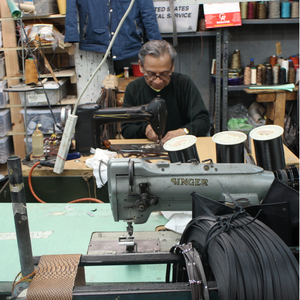 Our DNA
Brooklyn Born. Brooklyn Made.
Inspired by the people and culture of Brooklyn. Kynsho partners with Brooklyn based manufacturers and New York City vendors.